Destination Jewelry Brands™
Our Story
In 1992, the Caribbean Bracelet Company was founded on the island of St Croix, USVI. Initial offerings were the hook-style bracelet popular in the Caribbean as well as Larimar jewelry from the Dominican Republic. Shoppers loved the store on St Croix, and the hook collection of jewelry soon grew to include over 200 Caribbean-style bracelets.
Over the past 30 years, Destination Jewelry Brands™ has grown to encompass 3 other lines:
Our Destination Bracelet Collection® was created so that you can wear a design of your favorite places wherever you go. Every bracelet is as unique as the location that inspired it, with elements drawn from local history, architecture, geography, or flora and fauna.
Our Custom Clasp Collection™ offers the Caribbean hook-style bracelet with a twist, in the form of a removable clasp. Wearers can change the clasp depending on their mood, the time of year, or even the outfit they're wearing that day.
Our Mar Azul by Larimar Mines Collection consists of fashion jewelry featuring Larimar, a vivid blue stone found only in the Dominican Republic. Expect delicate bracelets, bold rings, and eye-catching pendants as well as earrings.
"The Destination® jewelry collection has been, and continues to be, a big success for our store. Destination Jewelry Brands has supplied us with point of sale materials and excellent delivery of merchandise. The jewelry has a quick turnover, and has become one of our most important vendor items. Most importantly, the Destination Jewelry has created more quality traffic in the store."
Don and Teresa
Fullen Harborside Jewelry, Galveston, TX
All of our signature bracelets are hand-crafted in the Caribbean from sterling silver, karat gold or titanium, with trim and wraps in silver or 14K gold. Many pieces can be accented with diamonds, Larimar, cubic zirconia, created opal or other genuine semi-precious stones.
For the luxury shopper, we make all of our designs from 14K gold, with the potential to add diamonds on certain styles of all gold bracelets as well.
Destination Jewelry Brands works closely with retailers throughout the United States and the Caribbean to create unique pieces that will appeal to their customers. We can create fully bespoke Destination® bracelets or clasps for jewelers in a specific location to drive sales.
Custom designs are also available for charities, corporations, or special interest groups looking for a one-of-a-kind piece to fuel fundraising—or commemorate a special occasion.
We do everything we can to ensure that our jewelry is one of your top sellers, year after year. We supply a wide range of professionally designed marketing materials and displays to help you introduce customers to our products.
And for that truly special touch, we'd love to work with you to design a bracelet that customers can't find anywhere else—one that they'll treasure for years to come as a souvenir of the time they spent in a favorite location.
Since our founding in 1992, we've been focused on exceeding our customers' expectations by helping them achieve success in their business.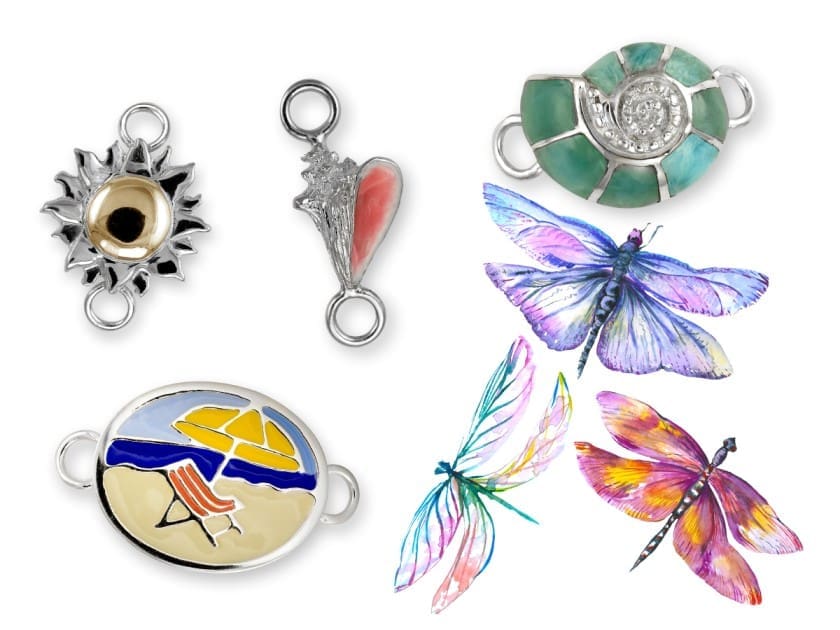 "The exquisitely designed Morro Rock Destination® bracelet (as well as pendants, rings and more) have become unique signature pieces for our popular store. Many families have been frequenting our area for decades and have amassed nostalgic memories as precious as the times they had here.
Thank you Destination Jewelry Brands for providing us with beautiful pieces that give us an opportunity to connect with our customers in such a meaningful way."
Shawn
Seven Sisters Gallery, Morro Bay, CA