Custom Clasp Collection™
One bracelet, many possibilities
Switch the clasp for a fresh look
Our Custom Clasp Collection™ has the same simple yet chic design as our traditional Caribbean Bracelet—with a twist.
The top clasp can be changed, allowing your customers to adapt the bracelet based on their outfit, their mood, the season, or even the destination stamped on their boarding pass.
There's no limit to the looks customers will create
The Custom Clasp Collection lets customers wear a variety of looks without buying multiple bracelets. Frequent travelers can tuck one bracelet and multiple clasps into their suitcase for a new look on each day of their trip.
Our partner stores love Custom Clasp Collection bracelets because customers keep returning to treat themselves to a new clasp, whether to match a new outfit, mark a special occasion, or "just because."
And once a customer owns a bracelet from the Custom Clasp Collection, a new clasp makes the ideal gift to celebrate one of life's many milestones. Friends and family can choose a clasp that commemorates a favorite pastime, a beloved holiday, or a memorable vacation.
Keep treasured memories and passions close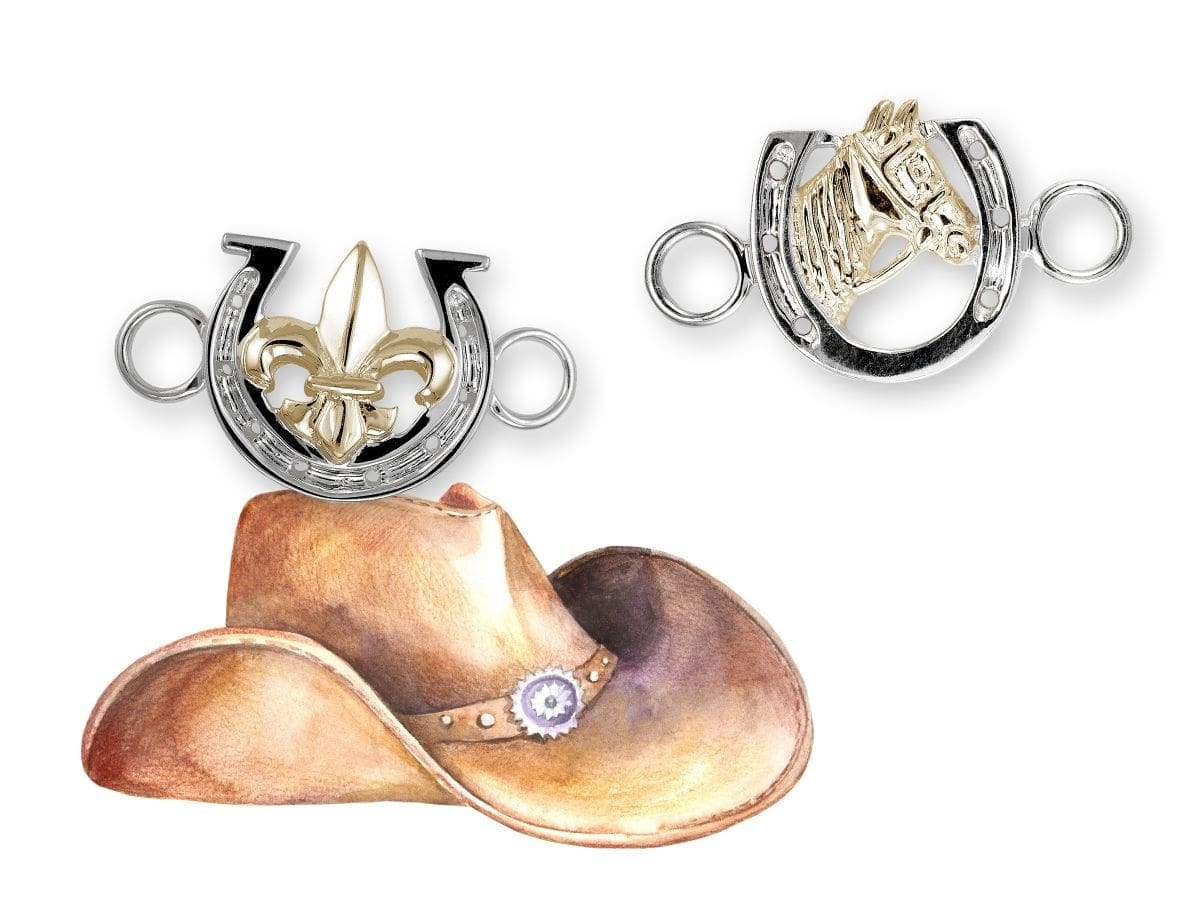 Many of the clasps in this collection celebrate beloved destinations. Beachcombers can select a clasp to remind them of leisurely days at the shore, whether that's a conch shell with a delicate pink interior, a hibiscus flower, or a pair of flip-flops. Customers who prefer to escape to their cabin will find aspen and maple leaves as well as silhouettes of loons and deer.
Other clasps showcase customers' hobbies: for equestrians, there's a horseshoe shape that encloses the silhouette of a horse; tennis fanatics will treasure a pair of racquets. A chairlift-inspired clasp or a lacy snowflake will suit skiers even when they're far from the slopes.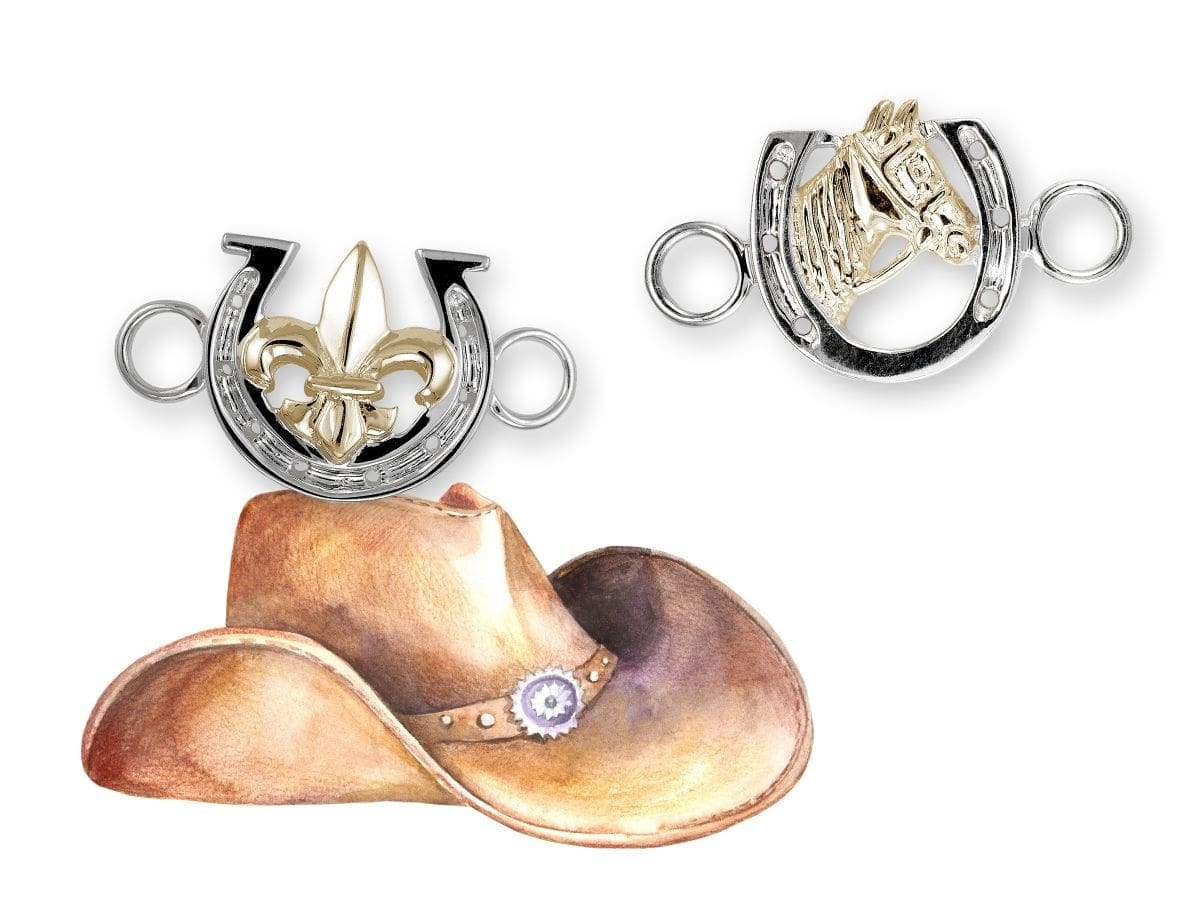 Liven up a favorite bracelet with color
Enameled clasps—such as a hummingbird, a dragonfly, or a comfy beach chair nestled under an umbrella—add a splash of color to an outfit. Some designs, such as the turtle and the sand dollar, can be ordered with a 14K gold accent.
Many clasps incorporate Larimar, the Gem of the Caribbean, such as nautilus shells and plumeria flowers with Larimar accents. There are also several circular clasps that feature a Larimar stone overlaid with a finely wrought silver design—such as a fish swimming amid a coral reef—for a truly eye-catching piece.
Find the style that suits your customers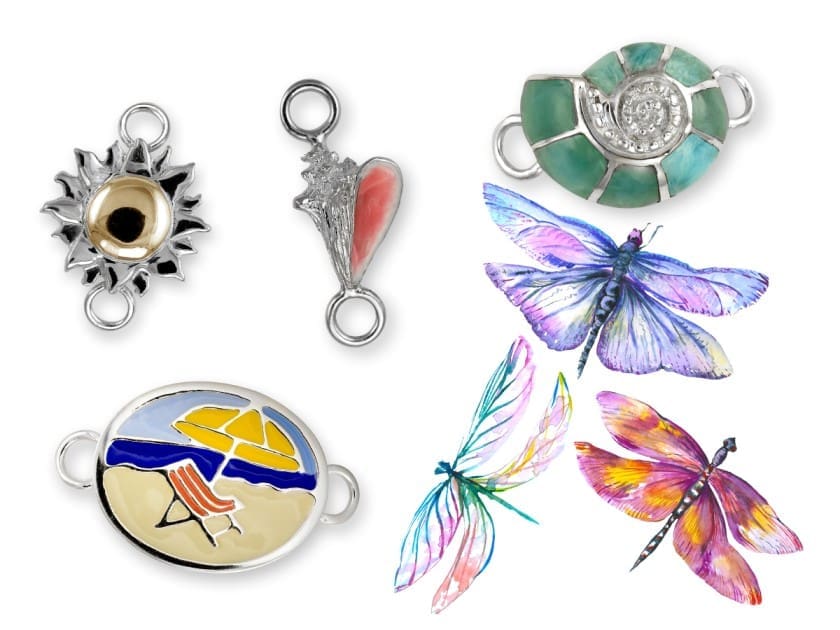 Custom Clasp Collection™ bracelets come in half-round styles in black titanium or twisted sterling silver wire, with the option to add precious metal wraps. All Custom Clasp Collection™ bracelets and clasps are also available in 14K gold.
We can also create clasps exclusively for your store so that you can reach new audiences, whether you're looking for a destination-centered clasp to attract tourists, or a custom design for a local charity, corporation, or special-interest group.