"Last year we passed the $1,000,000 mark in sales from the Vero Beach Destination® bracelet. Consistent sales year after year … a GREAT PRODUCT!"

Mark Leigh, Leigh Jewelers
Vero Beach, FL
Destination Bracelet Collection
®
Inspired by beloved
locations
The Destination Bracelet Collection® celebrates over 225 unique destinations in the United States and the Caribbean. Each Destination® bracelet contains elements based on the history, geography, and nature of the location that inspired it.
Destination® bracelets are available in a variety of styles and precious metal combinations: half-round, cable, mesh, and titanium. We also offer each design in 14K gold, with the option of diamond accents.
Whether your store is nestled in a sleepy beach town, on a rocky island off the coast, or near a beloved mountain getaway, the Destination® bracelet will evoke memories of that special place each time your customers wear it.
A keepsake that embodies that special place
Some locations are extra-special. Perhaps they came for a once-in-a-lifetime event—a wedding, a honeymoon, a milestone birthday. Perhaps they return year after year with family, savoring the comfort of a familiar getaway. Others are hidden gems that they unexpectedly fall in love with. And some are beloved hometowns that evoke a sense of pride deep within.
Wearing a Destination® bracelet on your wrist allows your customers to recall the beauty and spirit of their chosen place each time they glance at it. The Destination Bracelet Collection® is their passport to anywhere that holds special meaning for them or their loved ones.
U.S.
Locations
Spotlight on the Treasure Coast
Rumor has it that gold coins from a 1715 shipwreck still occasionally wash up on the beaches along Florida's Treasure Coast. We've painstakingly recreated one of these Spanish coins for our Treasure Coast Destination® bracelet. It hooks into a fouled anchor motif that any waterman will recognize on sight, symbolizing the importance of the ocean in the Treasure Coast region.
The

Caribbean 
Spotlight on Bermuda
First settled in the 1600s, Bermuda has a long history of survival against the odds. Today, it thrives as a cherished getaway, famous for its pink sand beaches and pastel-colored houses. Our Bermuda bracelet features the shape of the iconic longtail bird, which heralds the arrival of spring each year. It intertwines with the shape of the island itself to form a subtle letter "B." Nine wraps of 14K carat gold symbolize the 9 parishes of the island.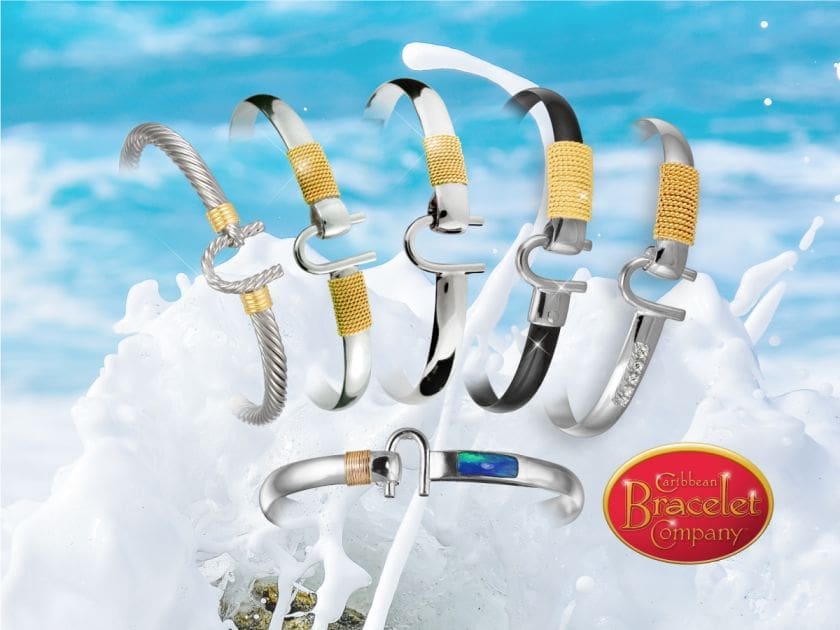 Let us create a Destination® bracelet for you
We currently make bracelets for over 200 locations in the U.S., as well as more than 26 islands in the Caribbean. If you don't see your location in our catalog, contact us and we'll work closely with you to develop a Destination bracelet that highlights the beauty and culture of your location.
Destination Jewelry Brands is our Number 1 Designer! Our customers especially love our Cape Cod Destination® bracelet. They like how it's unique to The Cape and the story card that goes with it. People love to take home a memento of their time here and a reminder of their vacation and the place they love to visit.
We have designed several of our own exclusive custom bracelets with Destination Jewelry Brands. Mitchell works so closely with you through the design process from production to finished product! He makes sure that all your ideas, suggestions, and changes are implemented until you are completely satisfied and happy with each piece.
Looking forward to making many more future sales and making customers happy with their Destination products!!
Denise Quinn— The Gilded Oyster
Falmouth, Massachusetts